WILCOX HISTORY 1780 to 1932
WILCOX HISTORY 1910 TO 2002
WILCOX FAMILY TREES
WILCOX FAMILY PHOTOS
DOCUMENTS
RELEVANT LINKS
Last Updated - 08/08/2018 for new information -
Details of updates
Website being developed for the "Okinya" Wilcoxes by
Sid (Sidney) Wilcox
.
You can view these ancestors
'interactively' on
The Wilcox Family Tree Chart on Wikitree
Okinya
was built in 1898 by George Seaborn Wilcox Constance Navena Wilcox (nee Welman) 1900?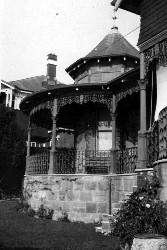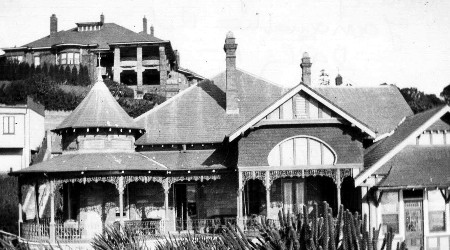 Okinya Cubby House & Tennis Court Okinya Swimming Pool c1937
Okinya front entrance
OKINYA
was burnt down in September 1953
Units on the "Chollerton", "Yalalunga" & "Okinya" sites where the three Wilcox homes once stood at Darling Point
In 1957 the Okinya site was sold and "Santina" was built on the site.
Betty and family moved to Gordon and then Castlecrag in 1958.
The view of Sailor's Bay from Betty's Castlecrag home in c1969